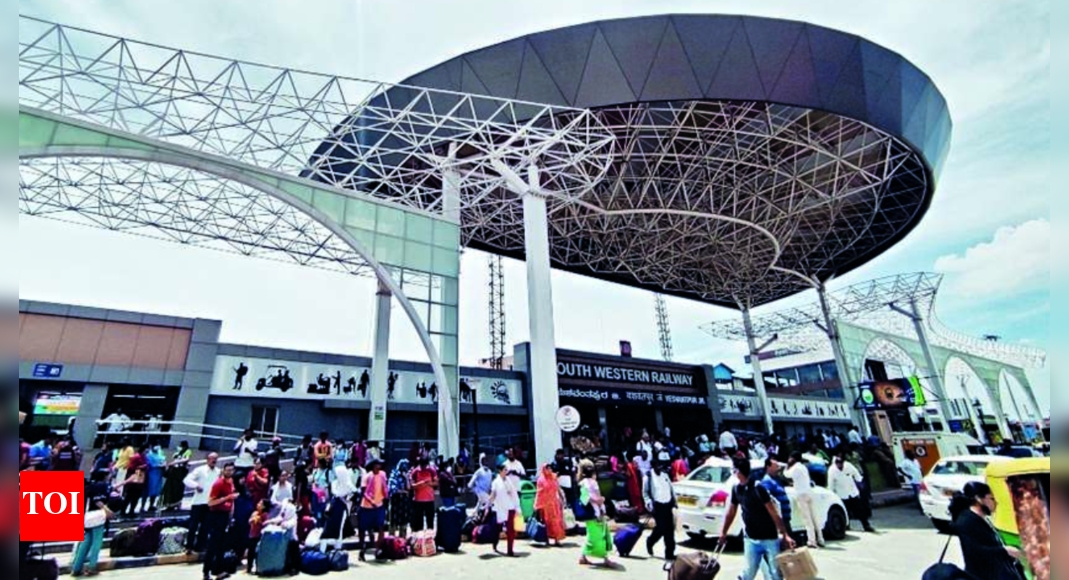 Yeshwantpur is likely to be the 3rd airport-like railway | Bangalore News
The 130-year-old Yeshwantpur Railway Station is the second busiest railway terminal in Bangalore and sees heavy footfall
BENGALURU: After the Sir MV terminal at Byappanahalli and the Cantonment station, Yeshwantpur is probably the third terminal in the city offering airport-type facilities.
While rail services from the Rs 314 crore Sir MV terminal started on June 6, the railways recently launched a Rs 442 crore tender for the modernization of Cantonment station.
South Western Railway (SWR) officials have said that the 130-year-old Yeshwantpur railway station – the city's second busiest railway terminal – will be redeveloped at a cost of around Rs 330 crore and a CPE (engineering, procurement and construction) call for tenders will be launched . The tender should be finalized by August 2022 and should be completed in 30 months.
Yeshwantpur Railway Station has been in operation since 1892. "It will be a state-of-the-art railway terminal with central air conditioning and will have separate arrival and departure halls. There will be modern passenger waiting areas as well as retail spaces, similar to airports," an SWR official said. "It will be a green station with facilities such as solar panels, a rainwater harvesting system and a wastewater treatment plant."
The station will likely be integrated into two suburban rail corridors: Byappanahalli-Chikkabanavara and KSR Bengaluru City-Devanahalli. At present, 77 passenger trains run from Yeshwantpur with a daily attendance of around 8,500 people.
"We have hired a technical consultant and will decide whether to demolish the station building entirely or partially," an official said.
Revamped for Rs 12 crore
Last year, SWR launched a Rs 12 crore redevelopment project for the same station. Now it is equipped with a host of improved facilities – roofing, landscaping, improved common and parking areas, wider access road, better resting places and a bus bay.
Some passengers, however, are unhappy with the new redevelopment plan. "They have already spent Rs 12 crore on a makeover for this resort, but the roof is ineffective come rain or shine. Instead of spending taxpayers' money at one resort on fancy projects, they should provide basic facilities at smaller resorts," said Anil Ga regular passenger in Yeshwantpur.
In 2017, the railways planned to redevelop 20 acres at Yeshwantpur station under PPP model, but the project was abandoned because there were no takers.
FOLLOW US ON SOCIAL NETWORKS
FacebookTwitterinstagramKOO APPYOUTUBE