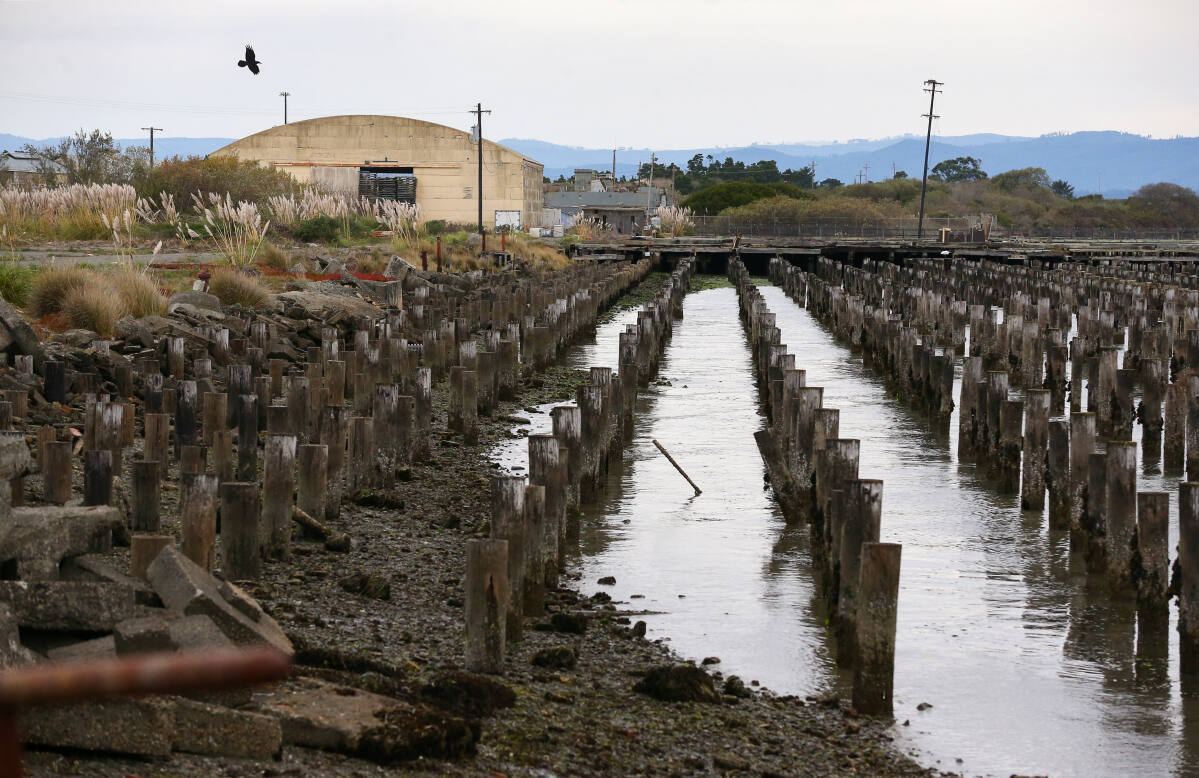 Why the wind promises another economic boom for Humboldt County
"Standing on the beach and facing the sea, the ocean seems limitless," Bates wrote in a recent column for Fishermen's News magazine. "It's not."
Fishermen must compete for space with marine wildlife sanctuaries, fishing closures, and a wide array of other restrictions. Now they will also have to compete with the wind power industry, which Bates says is looking for productive fishing grounds.
Offshore developers will want to install transmission lines underwater at least to the shores of Humboldt Bay, if not further. Some visions for the Humboldt Wind Power Zone include a south-facing transmission cable to pass under the Golden Gate Bridge and power the Bay Area.
Fishermen have many concerns about the project. There is traffic at the mouth of the bay, which is only safe to get in and out during a rising tide, according to Bates. There is increased pressure on space along the waterline that could increase costs for fishermen, who struggle with slim margins – an impact Jacobsen has called "gentrification of the port."
There are the uncertain impacts of development on the fisheries themselves. There are concerns about lost wind equipment drifting or blowing in fishing fleet gear and fear that a turbine will tip over or a platform will come loose and sink into valuable Dungeness crab fishing areas.
Veterans of the North Pacific Ocean, fishermen argue that the technology of the platform is unproven.
"Fishermen find it hard to think of these turbines in the water," Hildebrand said. "We think the worst place for equipment is there. "
Jacobsen and other proponents of offshore wind proposals say major disaster is unlikely. "I have a fair amount of confidence that they will be able to design what needs to be done there," said Jacobsen.
A destroyed wind turbine would not release large amounts of toxic chemicals like an oil spill, Jacobsen said. "It wouldn't be nice if they flipped over, but it's not the same as the types of environmental disasters we're (used to)," he said.
Jacobsen also added an argument common to environmentalists and scientists when discussing the potential drawbacks of offshore wind power, including many unknown impacts on marine life and birds.
"But there is an environmental catastrophe that we are facing, which is climate change," he said.
Fishermen are also concerned about climate change. In his column for Fishermen's News, Bates wrote about impacts ranging from the death of kelp that disrupts abalone and sea urchin fishing to a "drop" of warm water in the Pacific that has impacted salmon, the albacore tuna and other species.
Ibach, who has described the fleet as the "black sheep" of popular offshore wind power, is the chairman of the Humboldt Fishermen's Marketing Association. At 37, he's a young boat owner and operator, trying to build a business against the headwinds of slim margins and high initial investments in boats and tackle.
"First and foremost, no fisherman is against renewables," said Ibach, taking a break from selling large pink rockfish on his moored boat.
"We care about our oceans, we care about our climate and we care about this planet," he said.
When Haaland, secretary of the Home Office, came to town, Ibach accompanied her on a maritime tour of the bay, he said. But despite the discussion of local control and collaboration, he fears the fishermen may be left out because they don't fit the positive narrative.
"No one wants to talk about the fishing industry when they talk about the wind," he said, but "we cannot afford to lose ground".
The fishermen are getting organized, Bates said.
"This is just the very beginning of a group of people … who are not looking to stop it but to protect themselves from it," he said. "We don't want to wake up under the bus.
A 21st century alliance
Ashore, in the offices of the local chapter of the International Union of Operating Engineers, the attitude towards the project is different. Formed in 1939, the local chapter once flourished as timber-based construction and industrial labor projects around the bay. But membership declined as good payment opportunities in the region dwindled.
"We have enough minimum wage jobs," said Rachel Aguiar, an apprentice with the union who represents heavy equipment operators and other skilled workers. She and her colleagues are ready to build the wind port now.