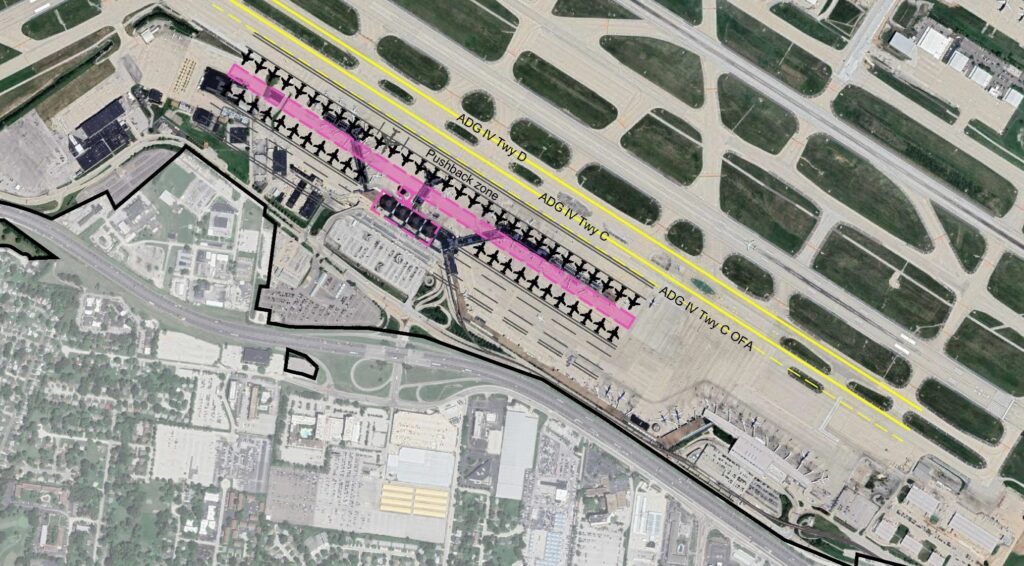 Update of the Lambert airport development plan
Last Wednesday, airport officials took stock of the current airport development plan (PDF). The presentation included a "preferred" plan, as well as other options that could be considered to renovate the airport to more modern standards. These plans included options to keep both T1 and T2 or to consolidate everything in T1.
The preferred plan would include the construction of a new sixty-two-door terminal at the T1 site. The only part saved would be the upper level which includes the iconic arches. In this scenario, the current T2 would either be demolished or reassigned to another use. The plan would also include the reconfiguration of some traffic lanes as well as the redevelopment of roads and parking lots around the terminal.
The airport has been doing development plans about every decade, the last one being in 2012. This one has not resulted in any change, so why will this one be any different? The current airport, particularly T1, has reached the end, and probably passed, of its practical life and needs to be replaced. Sometimes the roof leaks when it rains, and it has been fixed just to keep it operational. I wouldn't be surprised if the airport is at the point where it spends so much on maintenance that it would be more profitable in the long run to tear down the T1 and start over. Aside from ongoing maintenance issues, the boarding areas were not designed for the type of air travel that prevails today. There are more passengers per flight today than twenty years ago and the hold areas are no longer large enough for the number of passengers waiting to board each flight.
During the presentation, airport manager Rhonda Hamm-Niebruegge said Southwest Airlines is starting to stretch into T2. From gate E4 to E40 it is approximately 4 / 10th of a mile. Adding the next bank of gates would push it to half a mile. That's probably as far as Southwest would be willing to add. Someone who tries to make connections when you have such long distances might start to get difficult. Southwest drives about 60% of the traffic at the airport and if Southwest starts to have concerns, it's time to find a solution. This solution cannot be a patch job as it has been since the departure of the TWA / AA hub. It has to work for all airlines, but more importantly, continue to let Southwest grow here.
A new terminal will allow the airport to use space and resources more efficiently. Instead of having divided halls where not all retail establishments can be used by everyone, passengers will now have better access to all amenities. This should lead to more equipment being put in place, as each will now have a larger customer base. You'll see more restaurants, shops, and club spaces, which in turn should improve the passenger experience. It will also mean more revenue for the airport to offset part of the cost of building the new terminal.
When it comes to what to do with T2, if it gets demolished, there will also be a lot of options. This could include a consolidated car rental area, larger parking lot and / or a hotel. It will also increase the airport's revenue, which will again help offset some of the costs. Everything put there should take advantage of the proximity to the T2 Metrolink stop.
The airport development plan is dated 2040 but should be done before that date. Rhonda Hamm-Niebruegge has said that she thinks 10 to 12 years to go is the timeframe we should expect. That would mean a completion date around 2032. Since this is a completion date, we might see some things getting done earlier than that date. This time frame could potentially be shortened depending on the time it takes to complete and fund the plan. Most likely, the terminal will be built in stages due to the fact that the current airport has become somewhat crowded with airlines. Not all airlines can be integrated into halls D and T2. My approach would be to clean up hall A and move those airlines to halls C / D and build the new terminal where halls A / B are today. The new security checkpoints and the new west side of the terminal could be constructed before having to descend into Hall C. According to the drawings, this section would have 25 to 30 doors. You can then move the airlines from the current C to the new completed section and finish things up after the demolition of C. This would mean that you would see part of the new terminal in service a few years before the completion date.
The big unknown in all of this is the cost. It will also probably be the biggest obstacle to achieving it. The preferred plan is going to cost at least a billion dollars. It is obviously a large sum of money. In most cases, airport renovations must be paid for with Passenger Facility Charges (PFCs) as well as fees paid by airlines, dealerships, and rental cars. PFCs are charged $ 4.50 on each plane ticket you purchase. There is pressure for PFCs to be doubled, so if that happens it might help increase the money to pay for this, but it would also add $ 4.50 to each ticket. Taxes cannot be increased on the community to pay for these upgrades. That's why you need the airlines on board to do any kind of big project like this. They are going to pay a big part of it. It's also why having an airport with a setup that maximizes concessions and other real estate income is essential to help pay for upgrades like this. Some federal funds could also come into play. The extent of a renovation we get will be determined by the funds available. If it's in the billions then we should see a single terminal setup, if not we will probably see some kind of refurbishment of the current two terminals, and they stay separate. Something will be done because, as mentioned above, the airport needs to be renovated because the current structure will simply not be workable for a very long time. We'll just have to wait and see which route is taken.
I had been the type to defend the current configuration until the last few years. It has been functional and has a lot of door space for the airlines to grow. In my mind, it wasn't necessary to spend a lot of money on upgrades which would increase the fees when they weren't really necessary. My opinion on this has changed as Lambert has filled more and more doors and the airport is really starting to show some wear and tear. I think we've reached the point where it's no longer profitable to keep updating the current setup. Although the preferred option is my preference, I am open to other terminal configurations. I think everything needs to be in one terminal to save money on needing to have everything duplicated in a two terminal setup. A consolidated car rental facility should also be a priority. I've always been a fan of working on something at the North Hanley Metrolink station for a consolidated rental center, but I'm not sure how feasible that would be. If this plan comes to fruition, it probably makes more sense that it takes place in an enlarged T2 garage. As much as an airport hotel would be nice, I don't consider it a must in the new plan.
Now is the time to follow through on a long-term plan to renovate the airport. Hopefully the funding is there to make the preferred single terminal plan a reality. Many still live in the past and return to the TWA days to compare the present to twenty years ago. Hopefully a new terminal can turn the page these days and help us focus on what the airport can become and not what it used to be.