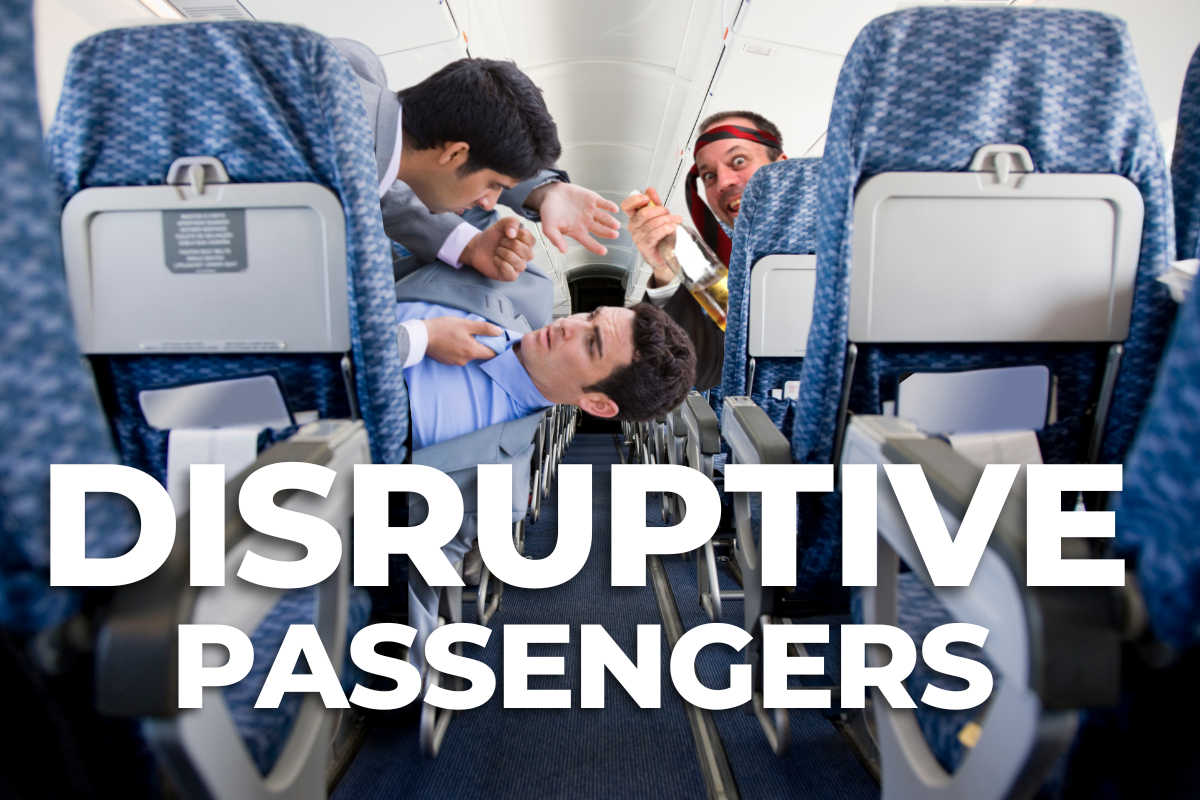 The rise of the misbehaving passenger
A disruptive passenger is one who disobeys safety or security instructions and displays threatening or abusive behavior. These passengers may often be under the influence of alcohol and/or drugs. It is illegal for an intoxicated person to board a plane, to get drunk or do drugs during a flight, and to consume alcohol that was not purchased on the plane or distributed by the crew.
Root cause
Although alcohol and drugs are often the root cause, some passengers simply become aggressive, ignore safety instructions and become disruptive without any intoxicating influence. Anxiety, jet lag, prescription medications and fear of flying can all contribute to heightened tensions on board, sometimes causing passengers to lose control. Flight delays and disruptions can make passengers feel aggressive – traveling during the pandemic has highlighted this.
How can a case be handled
Alcohol is often on sale 24 hours a day at the airport and passengers can drink before their flight and bring alcohol on board. On board the aircraft, the consumption of alcohol (purchased or complimentary) may be restricted by cabin crew if they observe potentially threatening behavior. There may be aggressiveness after a refused request, so the cabin crew will try to defuse the situation. The first step would be to issue a warning; if the crew refuses to comply, the passenger may be detained and arrested on landing.
Results
In serious cases where the passenger endangers the safety of the aircraft, passengers or crew, the flight may have to be diverted to the nearest suitable airport. Here the passenger will be arrested. The disruptive passenger can be fined, jailed or both, as well as the airline's charges for the diversion – this can be between US$10,000 and US$80,000. They may also receive a travel ban on the airline for life.
Air hostess during the pandemic. Photo: KLM Royal Dutch Airlines
Updates during the pandemic
International travel was down 70% in 2021 compared to 2019, and yet there has been an increase in disruptive passenger incidents, often due to failure to follow face mask procedures. Some of these flights had to be diverted due to security threats. The US Federal Aviation Administration (FAA) reported that between January 1 and April 12 of this year, there were 1,150 disruptive passenger incidents – 65% were due to mask mandates. Of these, 345 are under investigation compared to an annual average of 42 cases over the past decade.
Zero tolerance
The FAA first introduced its zero-tolerance policy in January 2021, when masks were still worn on board the aircraft. The incidents escalated during the month when a record 7,200 reports of unruly passengers were made, 70% of which were related to wearing a mask.
Examples of Incidents
In a July 2021 incident on an American Airlines flight, a passenger pushed a flight attendant aside and attempted to open the cabin door. Two flight attendants attempted to restrain her, but she repeatedly punched a crew member. The passenger was eventually restrained but spat, headbutted, and attempted to kick and bite crew members and other passengers. She was fined $81,950.
In another incident in July 2021 on a Delta Air Lines flight, a passenger attempted to hug and kiss the passenger next to her, then decided to try to exit the passenger cabin. the plane during the flight. She refused to return to her seat and bit another passenger. She was fined $77,272.
FAA position in 2022
The FAA Zero Tolerance Ban was updated on April 20, 2022. Wearing a mask is no longer required on board, but there will be zero tolerance for disruptive passengers. The FAA can impose fines of up to $7 million on the passenger.
"Behaving dangerously on a plane will cost you dearly, that's a promise. Dangerous behavior just doesn't fly and maintaining our zero tolerance policy will help us continue to make progress in preventing and punishing this behavior.
Billy Nolen, Acting FAA Administrator.