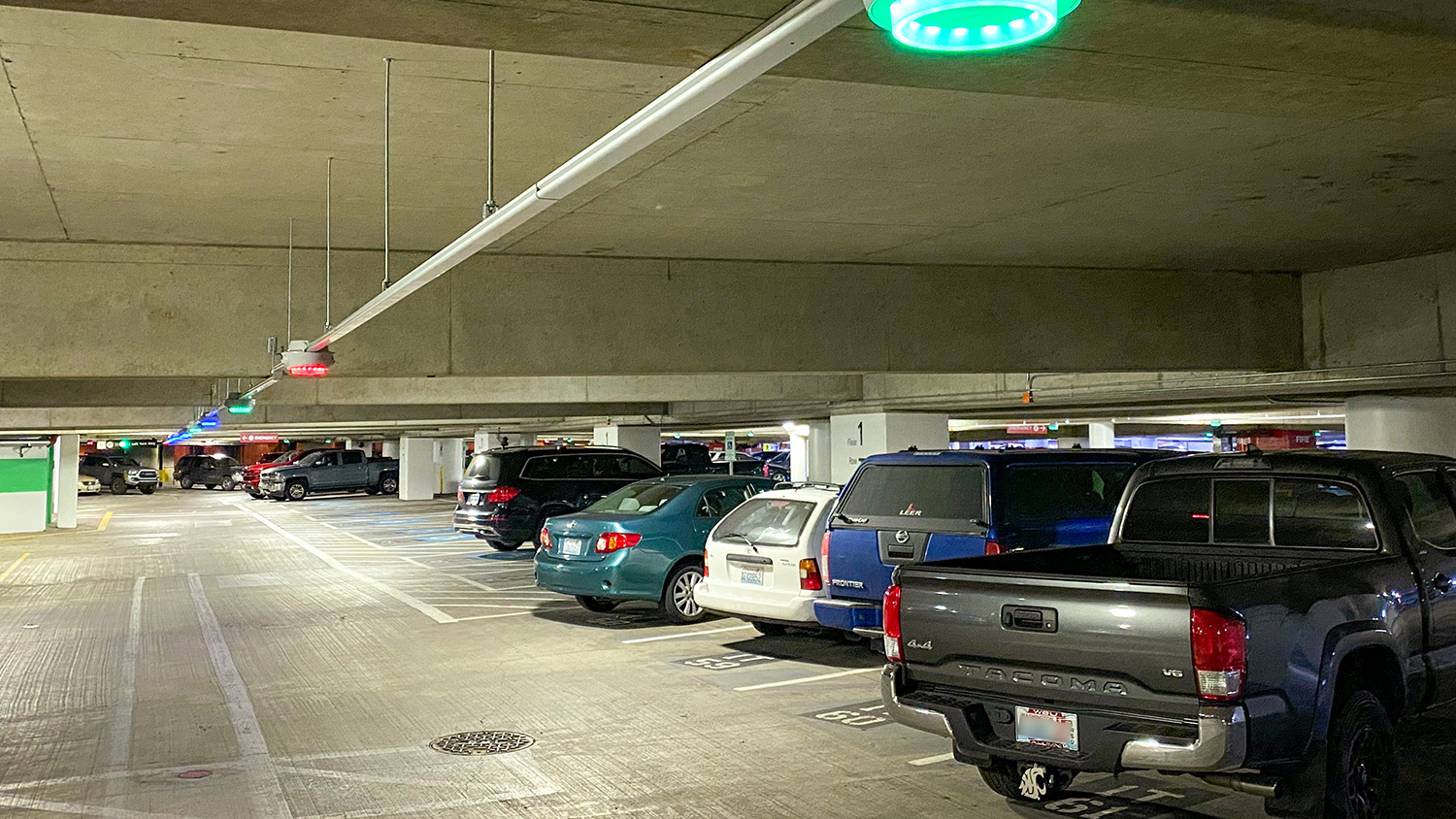 SEA Airport Parking Rate Increase Supports Garage Improvements
Equipment to enhance the customer experience, support an ambitious capital investment program, maintain market competitiveness
Change is coming to the parking lot at Seattle-Tacoma International Airport (SEA). The new automated parking guidance system, already installed on the first two floors, offers a major improvement in the customer experience. To fund projects like this, and in response to rising inflation and local taxes, parking rates will increase on April 1.
The new $21.8 million automated parking guidance system, recently launched on the first two floors of the eight-story garage, is one of the largest scale installations in the country with more than 12,000 spaces. With LED lighting and smart camera sensors to indicate slot availability and help customers locate EV and ADA-accessible parking spots, the guidance system will cut search time in half and throw the foundations for future technology-driven customer service integrations. Additionally, each sensor features camera-based license plate recognition technology to help locate your vehicle, improve parking policy enforcement, and enhance vehicle monitoring and safety in garage with motion-activated CCTV.
The fare increase will support the airport's operating and capital budgets and an ambitious capital investment program supporting projects such as the new international arrivals facility, concourse expansion building extension C, the SEA Gateway project and the South Satellite renovation program. It will also allow the airport to cover the growing costs associated with running a commercial parking business (e.g. payroll, maintenance, supplies, etc.) and support projects to improve the customer experience package for our parking customers, including the development of an online reservation system. e-commerce system/website where parking and other airport services can be pre-booked prior to arrival.
The installation of the parking guidance system will continue this year and will cover all floors by early 2023. The project will also almost double the number of electric vehicle charging stations, with the possibility of increasing the capacity of recharge for further expansion.
New rates starting April 1
Since 2019, the regional consumer price index (CPI) has increased by 9%, including 6.3% in the last year. The City of SeaTac's local tax increased from $3.28 to $3.49 per parking transaction, providing $4 million in commercial parking tax to the city over the past year, with approximately $6 million in dollars in 2022, with the number of travelers continuing to rebound at the airport.
A 7% increase in airport garage rates reflects competition with a 7.6% increase in daily rates from offsite parking operators. General and Terminal Direct hourly rates will increase by $1, with daily rates increasing by $2 to $3. See more details in the table below.
Product
Type
Current rates
New rates
$ Change
% Change
General parking
Hourly
$5
$6
$1
20%
Daily
$32
$34
$2
6.3
Weekly
$149
$169*
$20
13.4%
Direct parking at the terminal
Hourly
$6
$7
$1
16.7%
Daily
$39
$42
$3
7.7%
Weekly
N / A
N / A
Passport
Monthly
$375
$425**
$50
13.3%

* The new GP weekly rate is a 29% discount on the GP x 7 daily rate ($238). The discount effectively gives the customer 2 days of free parking.
** PP cardholder usage over the past six months averaged 10 days/month. The new monthly PP rate of $425 is comparable (+1.2%) to the proposed TD daily rate of $42 x $10 ($420), but gives the customer an added advantage with unlimited in and out privileges . The price per day decreases significantly with > 10 days of use per month.
Learn more about airport financing
Although nearly all US airports are owned by state or local governments, the federal government requires that airports be as self-sufficient as possible and receive little or no taxpayer support. This means that airports must operate like businesses – fund their operations from their revenues and plan thoughtfully and diligently to finance major improvement projects – which can often be very costly. Airports are borne by airport users and fees, rents or leases in place with airlines, tenants and travellers. Revenue generated at the airport stays at the airport and any revenue in excess of operating costs is reinvested into the airport to fund upgrades to current facilities or new projects.
Contact
Perry Cooper | SEA Airport Press Officer
(206) 787-4923 | [email protected]