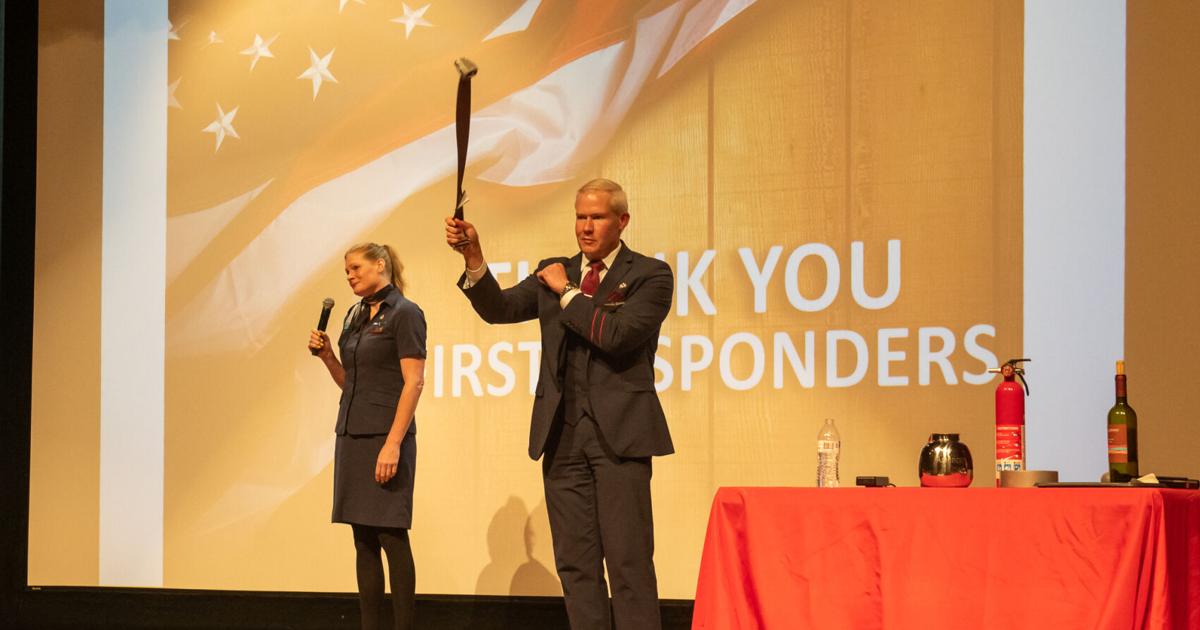 Remembering the Sometimes Forgotten 9/11 First Responders | New
LINCOLNTON — The Republican Women's Club of Lincoln County hosted its annual First Responder Appreciation Luncheon on Sept. 12 of this year, with a focus on 9/11. It's been 21 years since the tragedy happened. The people who were alive that day probably all remember where they were when the first plane hit the North Tower of the World Trade Center.
"I remember where I was that day," Lincoln County Board of Commissioners member Cathy Davis said at the event. "I read it recently and wanted to share it. On September 10, 21 years ago, 246 people fell asleep preparing for their morning flight, 2,606 people fell asleep preparing for work the next day, 343 firefighters fell asleep in preparation for their morning shift, 60 police officers went to sleep in preparation for their shift, eight paramedics fell asleep in preparation for their morning shift. past 10 a.m. on September 11. All of this says we should never take a minute for granted.
The number of lives lost that day, first responders and civilians is staggering, even 21 years later.
Over lunch, two American Airlines flight attendants, Lynne Smith and Brent Wallace, shared what happened on American Airlines Flight 11 on September 11 and how the crew on board made a difference in the outcome of the tragedy.
American Airlines Flight 11 was hijacked by five al-Qaeda terrorists on September 11, 2001. This Boeing 767 was deliberately crashed into the North Tower of the World Trade Center in New York, killing all 92 people on board and ensuring the death of 1,344 people in the plane's impact zone and above. The aircraft involved was operating daily American Airlines transcontinental service between Logan International Airport in Boston and Los Angeles International Airport.
Smith has nearly three decades of experience and Wallace has been a flight attendant with American Airlines since 2001. Both live in North Carolina but are based in New York.
"We hear it every day," Smith said. "We're just here to serve you peanuts, aren't we?"
This is far from the truth, as was proven on September 11 when the formation of Flight 11's crew was revealed.
"Before 9/11, we had to cooperate with whoever got on the plane," Wallace said. "We had three different guys to deal with. One was mentally deranged, one who sought fame or one who was a criminal. We had to make them see that we were human. We had to show them pictures of our family. We had to become human in their eyes, so they are less likely to act, just to land the plane, never realizing that one day they would try to use our planes as missiles and weapons.
On September 10, 2001, Wallace was a brand new flight attendant at American Airlines. He had just completed a trip from Newark airport and as he drove through New York he remembers passing the twin towers which were lit up. Smith was living in Los Angeles at the time and was on vacation. Due to jet lag, she missed the events that unfolded on September 11. She woke up with "thousands" of messages on her answering machine.
"The hardest part for us was that we knew the flight number, but American had shut down our computer system, so we couldn't tell if it was our friends," Smith said. "We knew they were our colleagues, but were they our friends? I worked 767 – New York in LA. It was my route and it was my planes. It was emotional for us because we couldn't get in touch with anyone. Flight attendants are like family. All we want is to be with our families.
It was thanks to the crew of Flight 11 that the FBI was able to identify the men who hijacked the plane and get a general idea of ​​the horrific plans of these hijackers.
"I'm not taking anything away from anyone here, but I'm going to tell you about real first responders," Smith said. "You never hear about American Flight 11. Thanks to our crew members, the Bush administration knew what was going on."
When the hijackers took over, the pilot, John Ogonowski, turned off the transponder. When he did that, that's how the voice recording of Mohamed Atta happened.
"If we hadn't done that, we wouldn't have known who it was," she said. "Let me talk about my crew for a second. Betty Ong took this flight to earn some extra money so she and her sister could go on vacation. Betty picked up an airline phone and told reservations what's going on. Two other attendants had been stabbed and were on oxygen.
During lunch, Smith played the recording of flight attendant Madeline "Amy" Sweeney who took that flight to replace a sick colleague.
"Amy didn't want to work that day because her daughter was starting kindergarten," Smith said. "She also did her job. She picked up the other phone and called her manager in Boston and told him the hijacker's seats and that they were armed with knives and bombs.
After reporting valuable information for about 20 minutes, Sweeney's last words to his manager were, "I see water. I see buildings. We're flying low, we're flying way too low. Oh my God." Moments later, the plane crashed into the North Tower.
"You see the significance of what my crew did that day," Smith said. "They didn't call their families. They did their job. Yes, we are trained for this. We simply do not inform you of our procedures.
We're like firefighters or anybody else, Wallace added, you never want to see us do what we're trained to do.
Smith and Wallace comically demonstrated different items they could use to thwart a would-be hijacker.
"The thing about 9/11 for us, no offense, but when I listen to the news, all I hear about is the firefighters," Smith said. "There were people, not just at the World Trade Center on the ground, but at the Pentagon on the ground, trying to help. There were tons of heroic stories that will never be told because these people didn't live to tell them. I want you to leave here knowing AA Flight 11. I'm not talking about the other flights, that's a totally different story. Flight 11 first responders provided valuable information to the government.
The full report of the 9/11 commission is available online at https://govinfo.library.unt.edu/911/report/911Report_Ch1.pdf.