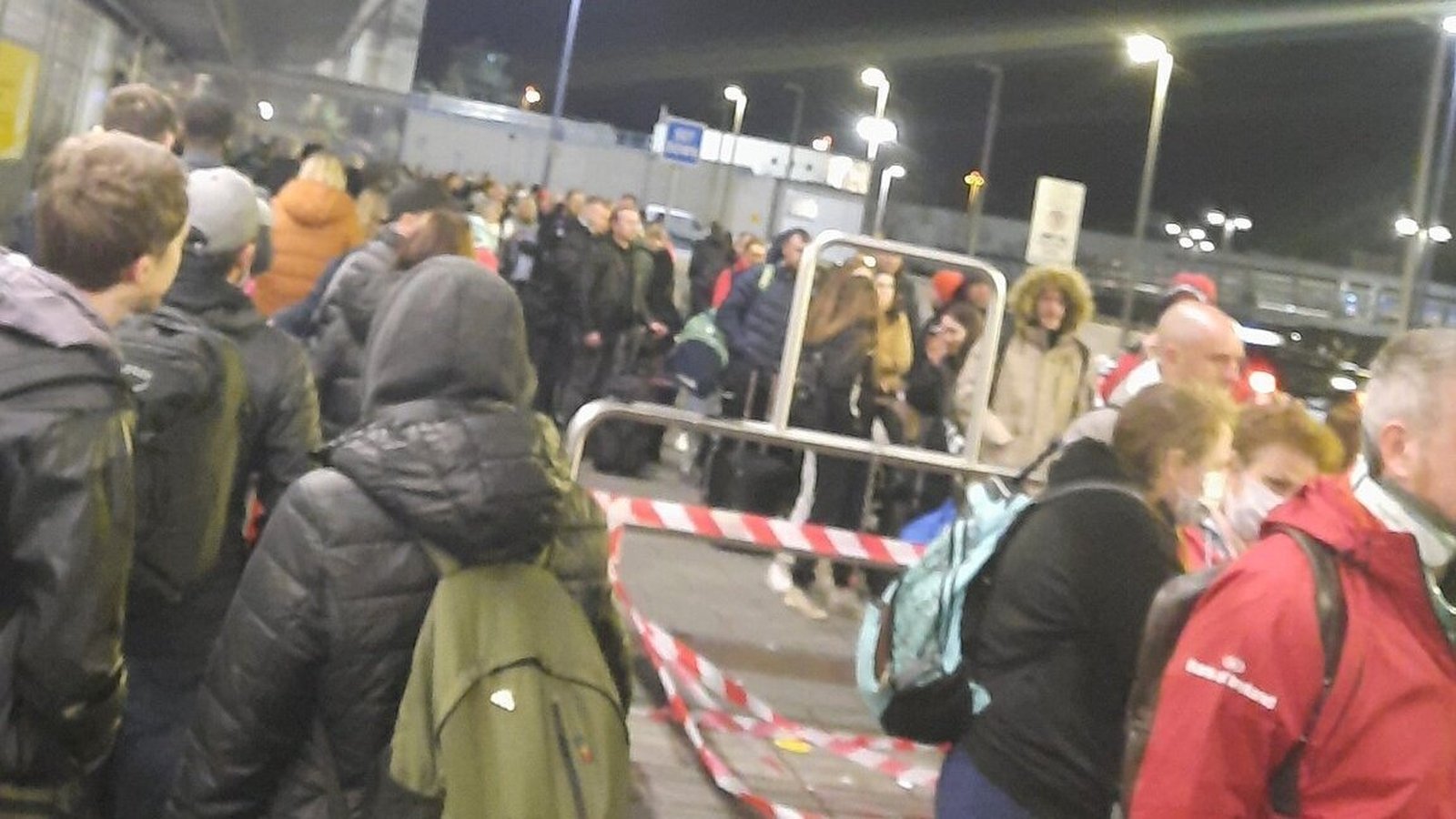 Passengers asked to queue outside Dublin Airport
Passengers were asked to queue outside the terminals of Dublin Airport this morning.
Videos posted on social media showed a queue of waiting passengers stretching from the gates of Terminal 1 to the exit ramp.
Airport operator daa said on Twitter: "Passengers had been following our advice since very early this morning to arrive at the airport up to three and a half hours before their departure time.
"This required us to stagger the flow of passengers through the terminals, which was well managed by the airport police."
He said the queues were moving and thanked passengers for their "cooperation and patience at this extremely busy hour of the morning before the first wave of departures".
Several passengers also took to social media to post their travel experiences at the airport.
While some described it as "madness" and "chaos", others praised the airport and staff for how they handled the situation.
This morning passengers were asked to queue outside @DublinAirport T1 and T2. daa said it "screens passengers… in an orderly fashion to join moving check-in and security queues" @rtenews https://t.co/dS6714KQId

— Laura Fletcher (@fletchl) April 9, 2022
One experience shared on Twitter was that "queues are moving, staff are pleasant and doing their best given the circumstances".
Another person wrote that the "huge queues (moving) fast", and another passenger said: "Very busy but in 45 minutes".
Meanwhile, Ryanair CEO Michael O'Leary has reiterated his call for the Defense Forces to step in to help reduce queues at Dublin Airport.
"The army has the most expertise in security, they are the best in Europe in this area and I think the European Union would accept that and that would solve the problem."
He also told RTÉ's The Business: "It's a bit more difficult to recruit airport staff at the moment because they have to have a more specific security clearance, so [Dublin Airport] missing about 200 employees.
"They think they will be able to recruit them over the next two months, but April and May are going to continue to be problematic."
Mr O'Leary said the era of cheap flights "is not coming to an end" and that aviation was important to an island economy like Ireland.