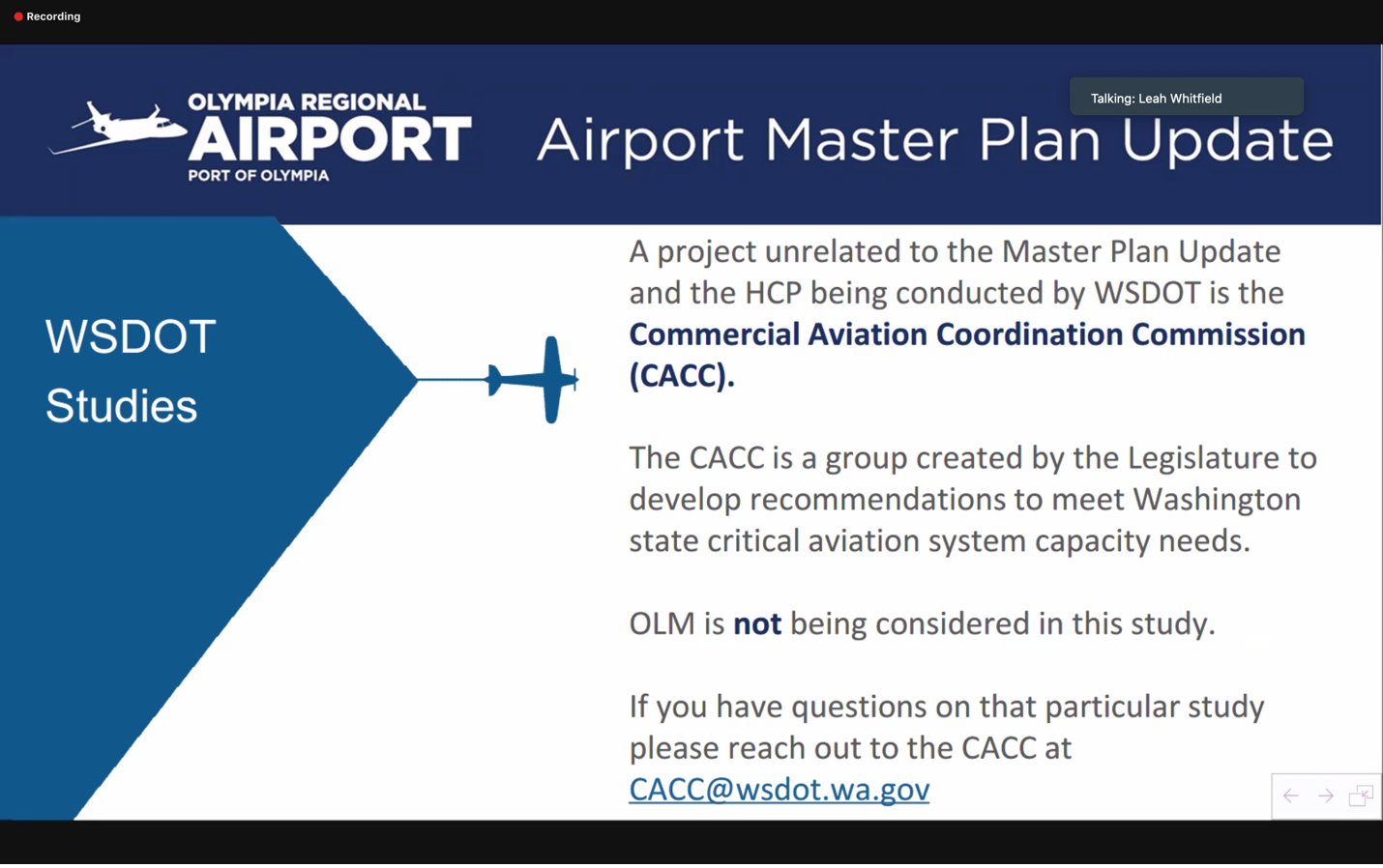 Olympia Airport Master Plan Update Raises More Concerns Among Residents
By Tiziana Piatos
At the third Port of Olympia Open Day yesterday for the Olympia Regional Airport Master Plan Update, Port Project Manager Leah Whitfield reiterated that Olympia Regional Airport will not was not envisioned for use as a commercial cargo or passenger service airport.
« CCAC [Commercial Aviation Coordinating Commission] is a group created by the Legislative Assembly to develop recommendations to address Washington State's critical aviation capacity. They have a restricted list of airports. Olympia is not considered in this study in this shortlist," Whitfield said.
The CACC presented its "final shortlist" report to the Legislature on February 9, 2022, as The JOLT previously reported. He recommended six airports for further investigation.
This list does not include Olympia Regional Airport. Only Snohomish County Airport (Paine Field) was listed as having "potential for additional general aviation capacity".
For clarification, the work of the CACC, led by the State of Washington, and the Olympia Regional Airport Master Plan Update, a Port of Olympia project, are two separate processes.
The project team discussed several emerging technologies for the airport such as electric aircraft, hybrid liquid hydrogen aircraft and sustainable aviation fuels.
Public comments
Community members reacted again after a project manager pointed out that Olympia Regional Airport (OLM) was not included in the airport master plan.
Other comments related to the ongoing work of the CCAC and health concerns.
One participant, Ursula Euler, said the statement just made that Olympia Regional Airport is not being considered by the CACC is "not true".
Euler clarified that while the project is not on the preliminary list of airports, these airports are known to the CACC to not meet passenger traffic capacity needs as determined by the state legislature.
Citing the CACC meeting of January 6, Euler mentioned that the list of the six current airports must be modified.
"I say this in the interest of full public disclosure," Euler stressed.
Another participant, Jan Witt, agreed with Euler's statement, saying that CACC will recommend airports for improvement.
Witt said: "It's pretty clear from listening to the CACC discussions that Olympia airport could be on the list of recommended airports for improvement. Improvement – what that would mean – hasn't been defined. But that would obviously mean an increase in operations."
On the other hand, Lee Riner, said, "I wish they would talk about the health issues regarding planes flying overhead."
According to Riner, the health concerns related to the rain of particles from US planes should be enough to "make us all very, very worried."
Riner pointed out that many people "completely reject" the discussion of the long-range effects of the future electric aircraft.
"It's a pie in the sky. You can talk about it and talk about it and talk about it. But you don't want to talk about health care, population health impacts," Riner added.
According to Riner, the health impacts caused by aircraft emissions are not sustainable in the long term.
Witt also agreed with Riner's sentiment, saying the update should include the full public health study mandated by the legislature.
"Hopefully the update will include that Olympia Airport will stop selling leaded fuel," Witt said.
Electric planes and alternative fuels at OLM
During the same airport master plan update open house, Port Environment Planner Renee Dowlin and Airport Planner Hazeen Mirza once again highlighted the prospect of the electric aviation and alternative fuel aircraft.
"Olympia Airport has the potential to support alternative fuel aircraft through training and general aviation activities," Dowlin said.
Mirza also said advances in hydrogen electric and hybrid-like aircraft have come a long way in a very short time.
"It is growing rapidly and ultimately we want to make sure the airport is focused on self-sufficiency and self-sufficiency," Mirza added.
On the other hand, Dowlin explained that hybrid planes are "cheaper to maintain and operate" compared to regular planes.
Dowlin also added that hybrid planes can be quieter. Dowlin added that sustainable aviation fuels have been around for several years.
"[Sustainable aviation fuels have] has grown exponentially over the past few years and will continue to grow sustainable aviation fuels again," Dowlin explained.
Dowlin added that a lot will change over the next 20 years as part of the airport's master plan.
Meanwhile, Hazeeb assured: "We want the port to be able to generate revenue through the airport to pay for itself so that it is not a burden on outside funding sources. [such as local property taxes]"
Airport rehabilitation
Meanwhile, other future projects shared by project managers include the rehabilitation of the runway and taxiways at Olympia Regional Airport.
Darren Murata, the chief engineer present during the airport master plan update, said they will rehabilitate runway 17-35 over the next zero to five years. In addition, they propose to shorten runway 8-26 by 647 feet for a total length of 3510 feet. Murata also proposed moving the F and C taxiway connectors to create a boot area.
Over the next six to 10 years, Murata said they would rehabilitate taxiway G. He added that engineers would move taxiway W to make the path parallel to the runway.
Murata added that they would remove taxiways C and D in the next 10-15 years and move the connecting taxiways to runway 8-26. Engineers would also move the connection from taxiway F to runway 8-26.
"The reason for this is that you want your connecting traffic lanes to intersect at a 90 degree angle and be outside the middle third," Murata said.
Data shared by the project team further explained that engineers had to do the relocation to "meet design standards".
Airport Master Plan and Airport Development Plan
The Airport Master Plan is a long-range planning document that assesses existing conditions and forecasts future aeronautical and non-aeronautical needs for the city and airport. These requirements serve as the basis for determining the appropriate role of the airport and its future growth, guiding the overall planning process. The previous plan, completed in 2013, can be viewed on the Port's website.
The Airport Development Plan is available on the Port Airport Master Plan website. The ALP is a visual and conceptual development plan that outlines the adjustments needed to address design flaws, growing aviation demand, and changing airport conditions and scenarios. The ALP has been approved by the Federal Aviation Administration. Any proposed future development will be subject to a thorough state and federal environmental assessment, as required by law.
CACC consultants will report on initial recommendations for existing and new locations suitable for passenger and cargo expansion on June 22 (tentatively scheduled). For more details on the open house or to register to participate online, click here link.