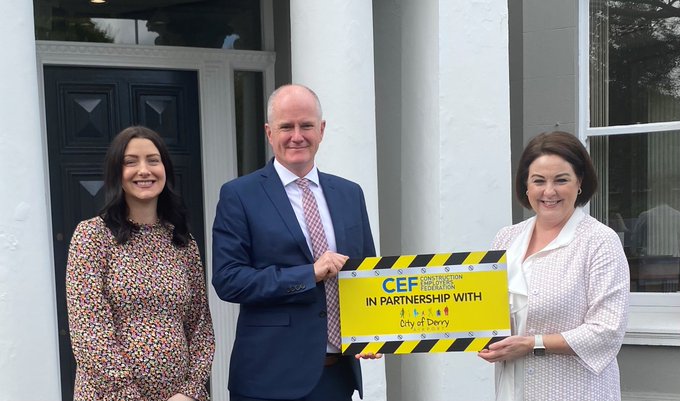 New partnership announced with CEF and Derry City Airport – Derry Daily
The Construction Employers Federation (CEF) for Northern Ireland and City of Derry Airport (CoDA) have joined forces in a new partnership.
As the gateway to the North West, the airport will provide convenient and cost-effective business connectivity for CEF members across Northern Ireland who regularly travel to London, Liverpool, Manchester, Glasgow and Edinburgh, as well as commercial discounts on airport services and facilities.
CEF is the only certified representative body for the construction industry in Northern Ireland, representing around 70% of construction and around 800 businesses of all sizes which directly employ over 30,000 people and 65,000 across the construction chain. broad supply. CEF is the voice of NI industry within the UK Construction Leadership Council, BuildUK and the NI Procurement Board.
Mark Spence, CEO of CEF, said: "CEF is delighted to welcome Derry City Airport as a business partner at a time when the construction industry is looking for fast and cost effective connections to sites across the UK.
"CoDA provides significant additional route choice and this regional airport's door-to-door times compare very favorably to major airports.
"We look forward to working with CoDA to provide local businesses with greater choice and convenience when traveling for business."
Steve Frazer, Managing Director, City of Derry Airport, said: "We are absolutely delighted to partner with CEF and offer their large community of members the opportunity to 'fly local' with us.
"We work with our airline partners Loganair and Ryanair, to provide daily connections to the UK, as well as NI award-winning tour operator, Travel Solutions, to offer package holidays to Spain and Portugal.
"Loganair operate daily services between CoDA and London Stansted and regular services to Liverpool and Glasgow throughout the week.
"A new year-round service to Edinburgh will also take off from May 17.
"Loganair's all-inclusive fare system means you can travel with 15kg checked baggage and enjoy in-flight refreshments at no extra cost – a huge plus for anyone traveling on a weekly basis.
"Loganair's rewards enrollment program, 'Clan Loganair', offers regular passengers the opportunity to accumulate points each time you fly, which you can then use towards an award flight of your choice.
"The airline also offers a 'FlyFlex' fare which offers the flexibility to fly home earlier, should your plans change, and you can board an earlier flight on the same day (subject to seat availability)."
Derry City Airport welcomed Ryanair to Northern Ireland in December 2021 for the new service to Manchester.
The route offers a convenient connection to one of the UK's major industrial centres, with fares available from just £11.99 per person each way.
Mr Frazer added: "The economy service to Manchester is available four days a week – Monday, Wednesday, Friday and Sunday – offering the option of departing at the start of the working week and returning midweek or at the weekend, for anyone traveling for professional purposes.
Brenda Morgan MBE, Business Development Manager at Derry City Airport, added: "The beauty of traveling from Derry City Airport is the fast, friendly and stress-free experience where you can proceed from the airport car park, through the single level car park. get to the terminal, to your boarding gate in less than 15 minutes.
"We will also be offering a special CEF Loyalty Card which will give members a 10% discount on airport parking and access to the Amelia Earhart Lounge, making business travel much more enjoyable. !"
For more information on the new partnership between the Construction Employers Federation and Derry City Airport, visit: www.cefni.co.uk
New partnership announced with CEF and City of Derry Airport was last modified: May 4, 2022 by cassoscoop
Keywords: