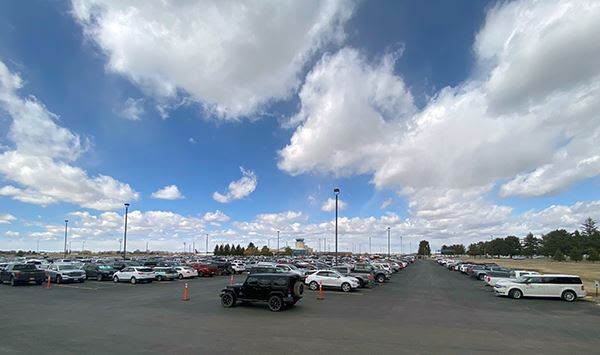 Idaho Falls Regional Airport urges planning ahead as parking reaches capacity
Idaho Falls Regional Airport (IDA) experiences a high volume of passengers, resulting in crowded parking lots.
Airport staff are urging passengers going through IDA to use ride-sharing services like Uber and Lyft or have someone drop them off at the airport. With the car parks reaching capacity, if anyone prefers to drive their own vehicle, they are encouraged to plan ahead and arrive early to find parking.
"With the closure of Jackson Hole Airport and the increase in flights to our airport, passenger numbers have increased exponentially," said Idaho Falls Regional Airport Manager Rick Cloutier. "We're happy to have people at our airport, but we just want to remind them to plan, so they don't get left behind."
Arriving two hours before scheduled departures will give travelers plenty of time to park, check in with the airline and clear the Transportation Security Administration. Once at the gates, travelers will find an upgraded airport terminal with new dining offerings.
Passengers are also encouraged to pack their bags smartly before arriving at the airport. Knowing what you can and cannot bring in your carry-on and checked baggage before arriving at the airport makes the screening process easier. IDA encourages travelers to visit the "TSA What Can I Bring?" tool here or at https://www.tsa.gov/travel/security-screening/whatcanibring/all.
The area directly in front of the terminal is reserved for private individuals loading or unloading their vehicles. Please wait on Skyline Drive for passengers to arrive, then proceed to the airport when they are ready for pickup.
IDA officials are also reminding travelers that airports are still subject to federal mask mandates and that all passengers should always wear masks both in airport terminals and during flight. Passengers are also encouraged to regularly check their flights online with their air carriers for flight times and delays.
"We are working very hard to make traveling through our airport as comfortable and convenient as possible," Cloutier said. "Just be patient and allow a little extra time to get through the lines. A little kindness and a little planning will go a long way to improving travel for everyone.
Idaho Falls Regional Airport staff will continue to provide updates on their social media pages as the parking lot fills.