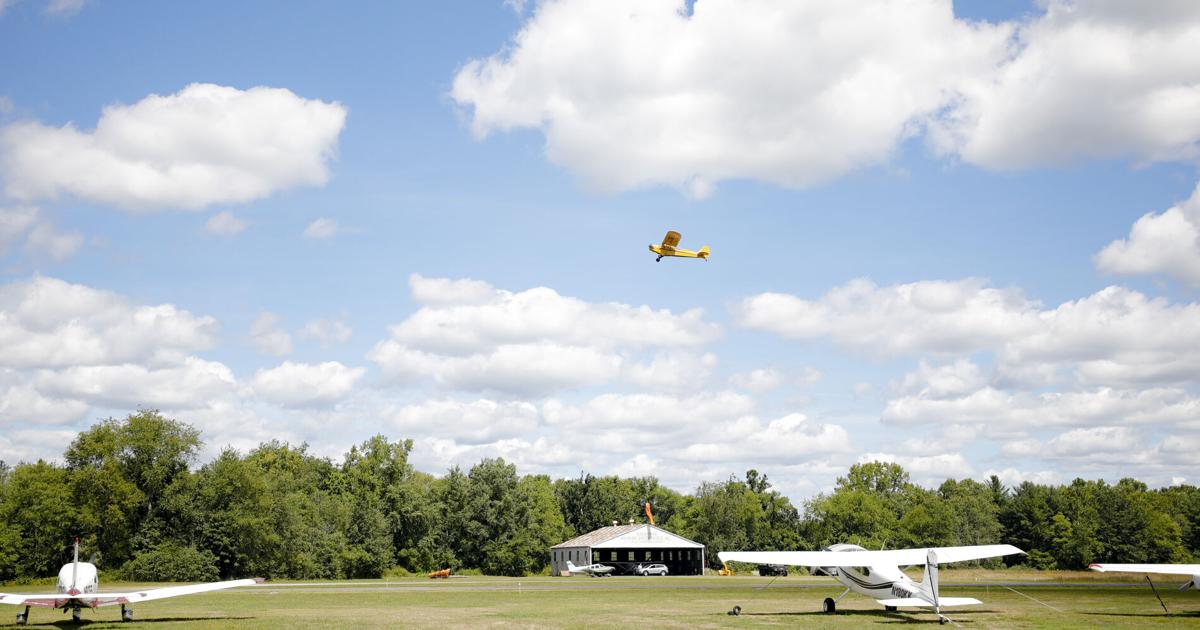 Great Barrington board scuttles attempt by several airport neighbors to cut operations there | South Berkshires
GREAT BARRINGTON — They wanted the city to step back in time 90 years on the airport, to when the airstrip was still an old, unpaved potato field.
But the city said no.
On Tuesday, the zoning appeal board, backed by the city's attorney, unanimously rejected a decision by several Walter J. Koladza Airport neighbors that would have essentially forced it into bankruptcy.
Neighbors Holly Hamer, Marc Fasteau and Anne Fredericks had challenged the building inspector's February ruling that the airport is exempt from zoning laws because it precedes them.
In his decision, Building Inspector Edwin May concluded that airport buildings and operations are permitted to continue in an area that was considered residential when zoning laws were enacted in 1932. The city has long regarded the airport as a pre-existing entity that does not comply with zoning laws.
A victory by the neighbors would have forced the airport to reduce its activity to the level it was in 1932. The decision could still be appealed to the courts.
Two board members, including a retired government lawyer, took it upon themselves to scuttle their legal basis. Board member Michael Wise said the facts are important and it is impossible to determine with certainty that operations in the 1930s are so different in terms of impact on the region today.
The nuances of activity, he said, are not so easy to define.
"A C47 [plane] landed at this airport in the 1940s and there were all kinds of things – airships were landing in the 1920s," Wise said. "You say that the helicopters [there] are new but they were thinking of bringing an autogyro in 1931…it's a kind of helicopter.
In terms of noise and activity, he said, "it's not materially different" from what it was.
It is unclear when the balance between the airport and some residents of the rural homes surrounding it tipped into resentment. The issues, mostly related to aircraft noise, surfaced in public in 2017 during hearings into owner Rick Solan's permit application for the construction of new hangars. In 2020, the city rejected these based on a potential change in the character of the neighborhood.
Critics of the airport resurfaced in November with their May request which coincided with Solan's request for Planning Board review to demolish the 1950s office and rebuild on the same footprint.
The three neighbors appealed May's denial of their claim, which led to Tuesday night's hearing.
Thaddeus Heuer, the neighbors attorney, reiterated legal precedent which he interpreted as requiring the city to force the airport to downsize and use only buildings that existed in 1932. Any current uses would require new city ​​permit. Heuer also said the new office would be prohibited by law.
"Having been around for a long time doesn't make use lawful, it doesn't create a presumption of legality – it's just the opposite," he said.
There is no evidence that there was a flight school, nor that there were night helicopter drills by the National Guard, in 1932, he added.
Board member Steven McAlister said he found the idea of ​​going back 90 years in time "absurdity" worthy of a Mark Twain short story.
"If we were to apply this [presumption] evenly every time he came before the board, what else are we going to have to shut down because they haven't gotten the license since 1932? asked McAlister. "It's not a question of law, it's a question of common sense and practicality."
There must be a way to settle this with the neighbors, he said. He considers this legal exit as a "harassment" of the airport and a "waste of time for this council".
Airport lawyer Dennis Egan compared legal tactics to help turn the airport back in time to a dentist who one day discovers his workplace is in the wrong area.
Egan said the goal of these neighbors is to shut down the airport.
"It's like saying a dental practice is a pre-existing, off-label use – and that's in some zoning districts – they stopped doing a root canal for some reason, and then ultimately they decided to do root canals, but – wait a second – it's 'abandoned [use].' You didn't, so you can't do it in the future," Egan said.
Egan also said he wanted to correct "the record" for the number of annual flights, which Heuer said was 30,000, or the equivalent of 576 flights per day. He said that was not accurate but did not provide a figure.
Flight Aware data shows the peak number of departures and arrivals from Koladza since the start of 2020 at 27 on November 10, 2020.