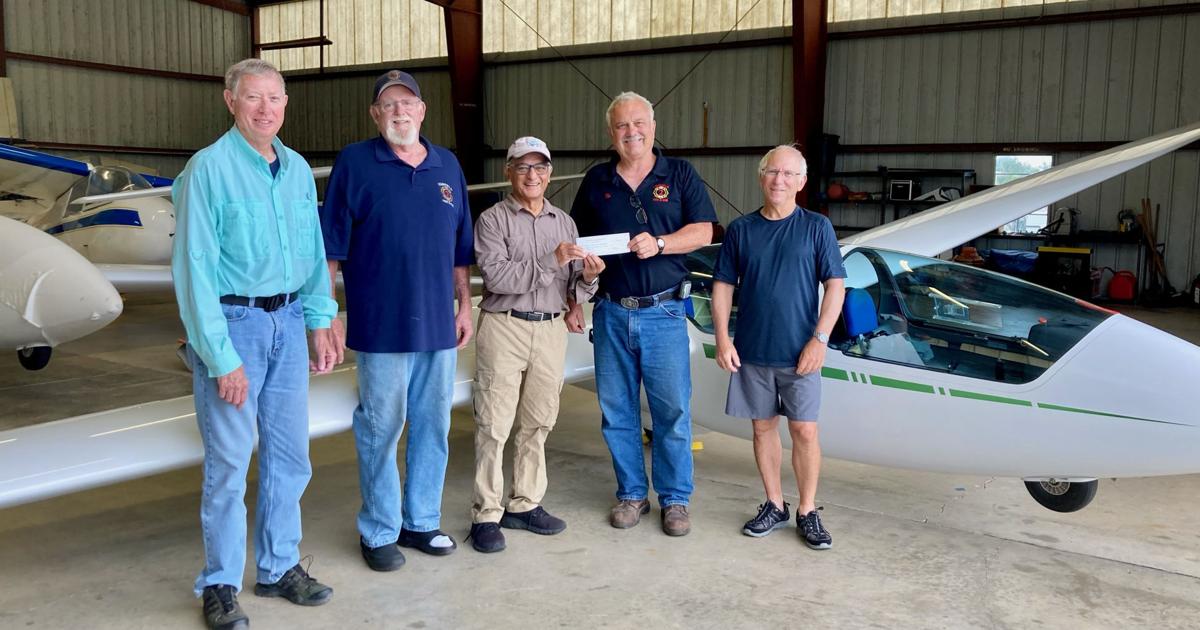 Glider Club Supports Fire Company Preservation Project | Local News
Although a majority of the 100 members of the Mid-Atlantic Soaring Association (M-ASA) live outside the region, the glider club is committed to "being one with the community", said the current President David Weaver.
The group's latest effort to support a local cause resulted in a $1,200 check to Fairfield Fire and Emergency Medical Services for its historic preservation campaign.
The fire company is raising $100,000 to pay for their recently acquired antique fire truck and a records center in their original ambulance building.
Fire company officials, President Dr. James Hammett and Fire Chief William Jacobs, expressed their appreciation for the donation.
When M-ASA board members presented them with the check on July 9, Danny Brotto said the group members recognized that "fire companies are the heart of small communities" like Fairfield.
A fundraising effort to support the special cause was held at M-ASA's annual Memorial Day weekend banquet.
Early in the pandemic, M-ASA members also contributed to Ruth's Harvest, the grassroots effort to distribute food to local residents and support lunches for students at Fairfield School.
"Our members never fail to respond when we ask them to support worthy efforts in the local community," said M-ASA Treasurer Nirmal Mathrani.
In Federal Aviation Administration (FAA) parlance, the airport southeast of Fairfield is designated W73.
One of only two public airfields in Adams County, the airstrip is owned and operated by M-ASA, a non-profit corporation entirely dependent on volunteers.
Given its proximity to the Liberty Mountain resort, the Camp David presidential retreat, and the "Underground Pentagon," the airport plays an important role in emergency response and national security.
Ambulance helicopters sometimes land at W73, as do security forces during training exercises.
While W73 is a public airport open to visiting pilots in addition to club member airmen, its private ownership precludes the typical FAA financial support received by most airports.
"Our members bear all the maintenance costs for the 100+ acre property," Mathrani said.
Private airports are eligible for some government funding, and M-ASA applied for a Pennsylvania Multimodal Transportation Grant to help upgrade its main hangar and create a modern flight training room and "terminal."
M-ASA's nine-member combat instructor team typically has around 30 student pilots learning to fly gliders. All are volunteers who do not receive any remuneration, which limits costs.
Generous scholarships are provided through member donations for youth flight training, Weaver said.
The veteran aviator, who flew U-2s at high altitudes during the Cold War and was a glider instructor at the US Air Force Academy, said: 'There has never been a better opportunity for young people who want to enter the field of aviation. ."
M-ASA traces its roots to the late 1940s when the Washington Soaring Society was organized. The name change in 1955 signaled its growing membership.
Moving from airport to airport in Maryland and Virginia, the club members' dreams of permanent residence finally came true in 1976 when the club purchased the former Charnita development which was in bankruptcy.
Five club-owned gliders are available to members for flight training and personal use. Almost half of the members are sole or collective owners of what they call "private vessels".
On a good day, experienced XC pilots can stay in the air for many hours and travel hundreds of miles without an engine.
The gliders are carried aloft by three M-ASA tow planes. The main "tugs" that get the "ships" off the ground are former dust collector Piper Pawnees.
Like the flight instructors, the experienced pilots who fly the tow planes all volunteer their time. Many are current or former airline pilots who jump into tow planes when not flying the big jets.
To be good neighbors, tow pilots vary their takeoff patterns and avoid repeated low-level passes over residences.
A five-member Board of Directors is elected by the members. All members who are not instructors or tow pilots must perform assigned duties as operations managers or assistants. A security officer reports any concerns to the board of directors for prompt attention.
While M-ASA members always have their sights set on distant skies where good flying conditions can take them, they are also committed to serving their fellow citizens on the ground in the local community.