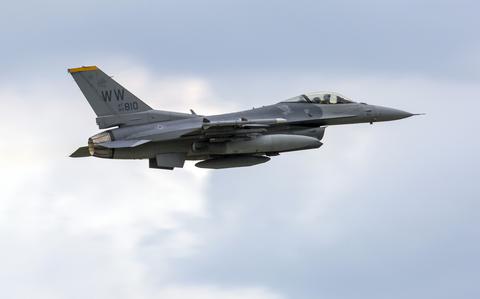 F-16 releases fuel tanks, makes emergency landing at northeastern Japan airport
An F-16 Fighting Falcon takes off from Yokota Air Force Base, Japan on July 24, 2015. The aircraft is assigned to the 35th Fighter Squadron at Misawa Air Base. (Yasuo Osakabe / US Air Force)
An F-16 Fighting Falcon dropped two external fuel tanks Tuesday night before making an emergency landing at Aomori Airport in northeast Japan.
The tanks fell in a non-residential area near Mount Iwaki, about 70 miles west of Misawa Air Base, according to a statement from the 35th Fighter Wing on Tuesday.
However, officials from the local police and defense bureau said parts fell on a coastal town further west of the mountain and 160 kilometers west of the air base.
The fighter plane landed around 6 p.m. following the in-flight emergency, according to the wing's statement. The wing did not indicate the nature of the emergency. He said no injuries resulted from the incident.
A spokeswoman for the Tohoku Defense Bureau said parts of a tank were found in Fukaura, a coastal town about 30 miles west of Mount Iwaki. The Defense Office is the local representative of the Japanese Ministry of Defense.
The office protested the incident to the commander of the Misawa air base on Tuesday evening, calling it "extremely regrettable" and of concern to authorities and local residents, the spokeswoman said. The office asked the Air Force to identify the cause of the incident as soon as possible and take preventive measures, she added.
The squadron did not know that a tank had fallen in a residential area, Tech. Sgt. Timothy Moore of the Misawa public affairs office told Stars and Stripes by phone Wednesday morning.
"The safety of our airmen and our Japanese neighbors is our number one priority during flight operations," Wing Vice Commander Col. Timothy Murphy said in the statement. "As we conduct a thorough investigation to determine the root cause of this incident, we are grateful to our community partners who consistently support our mission. "
A passer-by reported smelling oil and finding aluminum parts along a road at 6:25 p.m. Tuesday, an Ajigasawa police spokesperson told Stars and Stripes on Wednesday.
At the scene, police found parts, including one about 3 ½ feet long, the spokesperson said.
Spokesmen for the police and the defense bureau said the coins fell near the scattered houses and the town hall. No injuries were reported, but a sidewalk handrail was damaged, the police spokesman said. Firefighters left the parts nearby for the U.S. military to collect, he said.
Japanese government spokespersons usually speak to the media on condition of anonymity.
The F-16 remained on the runway until 12:25 a.m. Wednesday, an Aomori Airport spokesperson told Stars and Stripes on Wednesday by phone. As a result, seven commercial flights were canceled on Tuesday evening, he said. Commercial flights resumed Wednesday morning, he said.