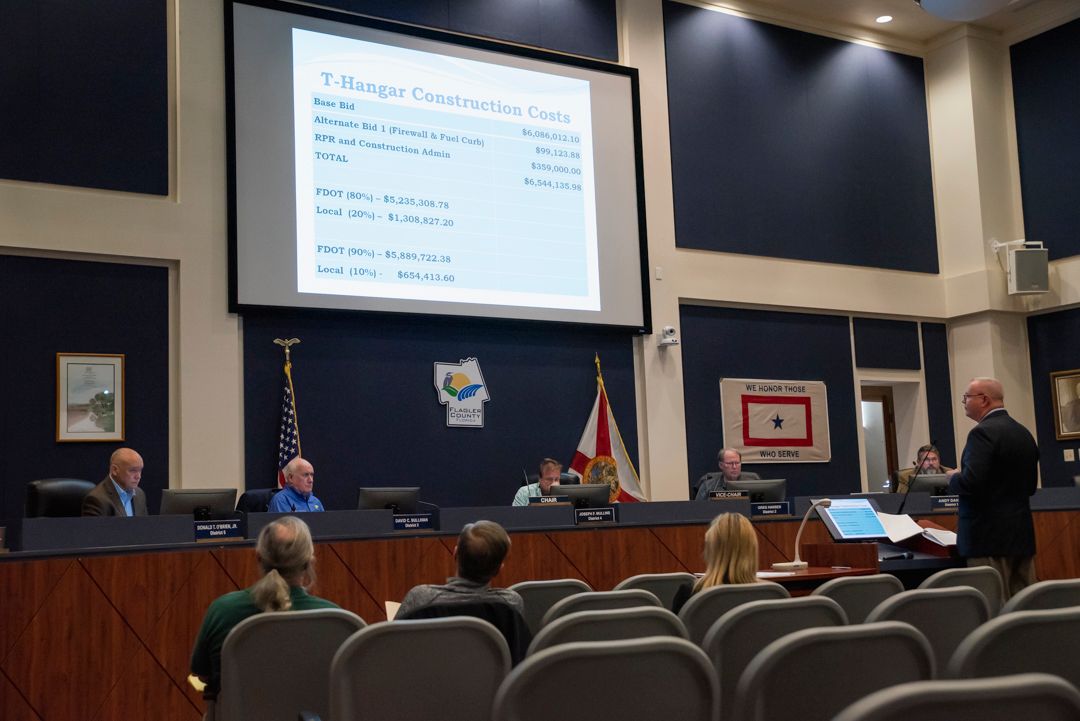 County commission hears presentations on airport renovations and new library plans
BUNNEL- Flagler County Council heard two detailed proposals Monday — one for major renovations to Flagler Executive Airport, the other for a public library project on the south side of the county. Since the meeting was a workshop, nothing was on the table to be formally voted on, but the commissioners provided consensus support for the library, which means it will be moving forward in the near future.
Flagler Executive Airport
airport manager Roy Siger presented to the Commission a comprehensive plan to strengthen the airport facilities over the next few years. He also showed off some earlier upgrades, such as a significantly enlarged electrical safe that had been upgraded from a glorified supply closet to a spacious building that could accommodate multiple cars if needed. The vault includes environmental controls and a new backup generator.
Current airport projects include ATC equipment replacement ($302,304 paid for by the Florida Department of Transportation), newly designed T-hangars ($117,000, also funded by FDOT), and taxiway rehabilitation. circulation ($185,000 in FDOT money). Sieger spoke of the waiting list for private customers to enter a T hangar, currently at 122 people. Once 42 proposed hangars are added, they will hopefully generate $215,400 in annual revenue.
Airport construction costs were another concern altogether; Sieger talked about rising prices causing unexpected delays. The base bid would have been just over $6.5 million, with FDOT covering 90%. $654,000 of that money would be funded by local taxpayers.
A new terminal was also a focus of Sieger's presentation. Chairman of the committee Joe Mullins seemed surprised when he learned that the new terminal would feature its own multi-million dollar freestanding hangar extensions, costing $10 million, which they had heard of before.
For the airport's capital improvement plan, the bill is expected to be $37,277,000. Commissioner David Sullivan briefly stepped in to address airport marketing issues, suggesting that a sign that read "Flagler County Airport" may not be the most effective way to get residents to refer to the airport. airport as Flagler's executive airport, just like its official name.
On the other hand, based on the impressive cost figures put forward by Sieger, the airport was able to point to a handful of unforeseen federal funding sources. The CARES Act, signed into law by President Trump in 2020, provides the airport with $69,000. The grant money would add another $116,000 and change, and the Infrastructure Investment and Jobs Act President Biden signed in November gave the airport a whopping $1,475,000 spread over five year.
New public library
Director of the Flagler Public Library albanian holly featured on a planned new public library to be built from SR-100 in Bunnell. The library was an idea since 2014, but only now begins to look like an event in the near future.
Sprawling floor plans were presented by Albanese, detailing a 32,000 square foot facility that serves as both a new public library and a multipurpose facility that can host business meetings, audio production and even music events outside. A health and social services section would also be located in the new facility. Stewart-Marchmann-Act would also have a room to meet mental health needs within the community.
"What we are building is the library of the future" said Albanian. "But it really is today's library." Architects Ruffin Rhodes and Max British attended the meeting via Zoom from their offices in Orlando, but the commissioners never asked them a question.
The current public library off Palm Coast Parkway generates just over $100,000 in annual revenue for the county, and this new one is expected to produce much the same. The total cost would be around $16,000 in Albanese's projection, and it would open summer or fall 2024 at the earliest.
Commissioner Greg Hansen was the first to offer support for Albanese's presentation, saying she summarized all of the Board's concerns concisely. Andy Dance was a bit more reserved, wanting to go through the next county strategic action plan sessions before deciding to write the multi-million dollar check the library would need. He specifically mentioned a potential new fire station as something that could compete for the same funds. The dance also raised an issue with current sidewalk and bicycle access in the area where the library would be built, near Commerce Parkway in Bunnell.
Only two people used the public comment section at the end of the meeting (only they and three members of the local media were present), both offering their full support to Albanese and the library.